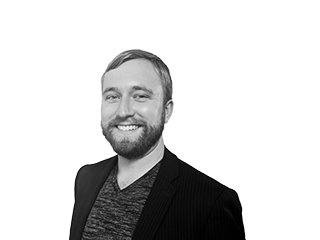 TJ Dilenschneider
Renewable energy will power the future and lithium is it's backbone. The methods for extracting lithium need to be as advanced and clean as the future it powers, and EnergyX's technology offers just that!
Theodore "TJ" Dilenschneider is the Chief Science Officer at EnergyX, and mastermind behind the breakthrough technology developed by the company.  He oversees all aspects of scientific R&D including solid state batteries, mixed matrix membranes, metal organic framework, and other cutting edge energy technologies.  You can almost always find him in the lab with a beaker or test tube in hand, tweaking his creations for optimal lithium extraction and recovery.  
Prior to joining EnergyX, Theodore developed functionalized block co-polymer membranes for separations critical to the water and energy nexus at the University of Notre Dame for four years.  He also fabricated biomimetic, anti-fouling membrane surfaces using electrohydrodynamic jet printing techniques in the W.A.T.E.R Laboratory with Dr. William Phillip.
While fulfilling his CSO duties, Theodore is working on obtaining his PhD at The University of Texas at Austin, studying under Dr. Benny Freeman.  He heads the multinational research collaboration for developing metal-organic framework, mixed matrix membranes for ion separations. He manages both the academic and industrial scientific programs.  Theodore is an alumnus of the University of Notre Dame (BS, Chemical Engineering with Thesis) and has studied in Australia and at the Imperial College in London.
Fun Fact: Theodore lives on ranch outside Austin where he pursues a myriad of activities that includes helping raise a herd of Japanese Wagyu cattle.  He's not a vegan.