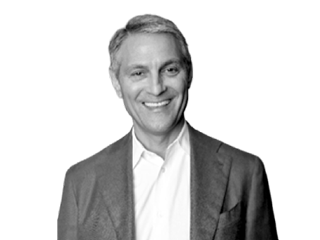 Ariel Emanuel
Ariel Emanuel is Chief Executive Officer of Endeavor (NYSE: EDR), a global sports and entertainment company comprised of industry-leading brands including WME, IMG and UFC.
After co-founding the original Endeavor talent agency in 1995, Emanuel orchestrated the largest talent agency merger in history in 2009 when Endeavor joined forces with William Morris to form WME. WME now represents leading talent across books, culinary, digital, film, music, television and theater.
In 2012, WME forged a strategic partnership with Silver Lake, a global leader in private investments in technology. In 2014, WME and Silver Lake acquired premier sports, fashion, events and media company IMG, and in 2016, the company acquired UFC®, the world's premier professional mixed martial arts (MMA) organization. One year later, Emanuel announced the formation of a holding company for his global portfolio, Endeavor. Since then, Endeavor has been named one of Inc.'s Fastest Growing Companies in America and one of Fast Company's Most Innovative Companies. The company debuted on the New York Stock Exchange in 2021.
A graduate of Macalester College, Emanuel began his career at Creative Artists Agency (CAA) and went on to become a senior agent at InterTalent and International Creative Management (ICM). Emanuel has been named one of Fast Company's Most Creative People in Business, one of Fortune's Businesspersons of the Year and one of Sport Business Journal's Most Influential People in Sports.