The Future of Lithium Production
As the demand for lithium continues to soar, the need for efficient, low cost, large-scale extraction and refinery solutions is also rising. EnergyX looks to drive the growth of the global lithium industry while making low-carbon technology cheaper, sustainable and more accessible.
LiTAS™
Lithium Ion Transport and Separation (LiTAS™) is EnergyX's suite of lithium selective and processing mechanisms that incorporates proprietary membranes, solvents and/or adsorbents to improve lithium recovery for existing and new Li-brine resource producers. LiTAS™ aims to process lithium from "Brine to Battery".
Lithium's unique characteristics provide enhanced performance benefits that are transforming the energy industry. Being a specialty material, cost-effective and time-efficient extraction processes remains the 'holy grail' for the EV transition.
Overview
We provide customers the most economical lithium extraction process for their resource, and create sustainable solutions for battery grade lithium material products. EnergyX has designed and patented scalable implementation methods to cut costs and produce the lowest cost lithium in the market. 
Quick Facts
Recovery Rate
~90% Lithium
Continuous Process
1-2 days
Fresh Water Needed
Minimal
Power Requirements
<$100/ton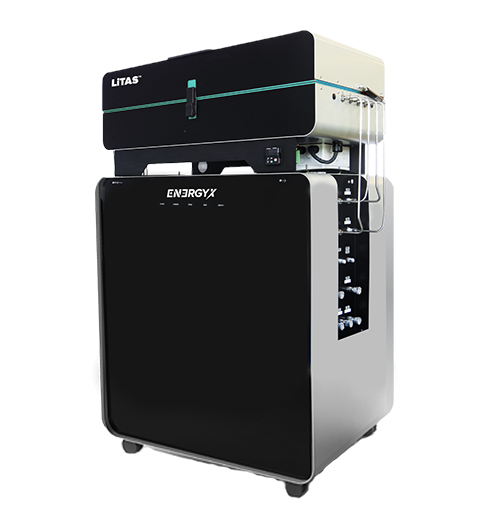 Direct Lithium Extraction
EnergyX has developed a suite of DLE technologies that used in combination can treat any brine type.
Membranes
Complementary to existing ponds
Suitable for operating Li producers
ED and BPED
Complementary to any Pond/SX/IX/IS based Technologies
Modular, low CapEx & OpEx
Solvent Extraction
Stand alone direct lithium extraction
Suitable for greenfield (no ponds) or complementary to ponds
Enables Direct Conversion
Modular, low CapEx and Opex, maximum flexibility
ADSORBENTS
Stand alone direct lithium extraction
Suitable for greenfield (no ponds)
Suitable for low Li concentration brines
Best in class kinetics and stability
Lowest fresh water consumption
Efficiency & Innovation
Initially we have built LiTAS™ to complement the existing pond infrastructure in a phased approach. Eventually our direct lithium extraction technology will replace the outdated methods of evaporation ponds.
Selectivity
Li vs. Na
Selectivity
Li vs. Mg
Cl vs. SO4

Operates at High Salinity
Continuous
Process
High Throughput
Complementary to Ponds
Low Power
Consumption

No Chemicals Usage
Minimal Fresh
Water Required
LiTAS™
Mixed Matrix Membranes
Adsorption
Solvent Extraction
Nanofiltration
Reverse Osmosis
Forward Osmosis
Lithium refinery
In EnergyX's process we can make Lithium Metal directly from the brine itself and potentially, anode-ready form.
Lithium Hydroxide
Needed for high energy density & high voltage cathodes
Direct conversion of Li Brine to battery grade Lithium Hydroxide
>60% CAPEX & OPEX savings
Synergy with DLE
Highest quality without repurification (99.9%+)
Lithium Carbonate
Needed for supplying current generation batteries into the future
High purity product resulting from high quality DLE concentrate
Very low brine impurity removal needed
Only battery grade Lithium Carbonate without repurification
<50% CAPEX & OPEX
Low carbon process
Lithium Metal
Needed for next-generation high energy density batteries
Brine to anode ready
Li-metal in a single step
Greatly simplified and low temperature process
>80% CAPEX & OPEX reduction